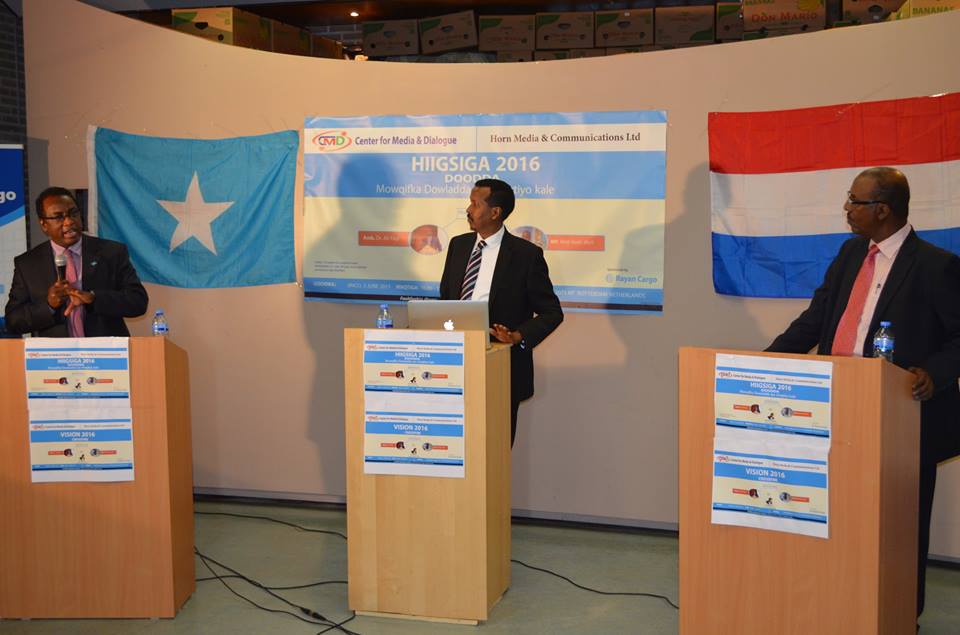 Center For media And dialogue, waxaa ay Qabatay dood ku sabsan Hiigasiga 2016 taasi ka dhacay Magaalada Roterdam ee Wadanka Holland iyadoona doodaasi ay ka soo qeyb galeen Madaxda Jaaliyada wadanka Holland ,Haweyn, Dhaliyaro iyo Dad siyaaada aad u falanqeeya iyadoo doodana ay u dhaxeysay Safirka Soomaaliya u Fadhiya Midowga yurub Dr Ali Faqi iyo Abdi Xosh oo ah Madaxa Gudi hoosadka Barlamanka Soomaaliya dhanka Xuquuqul Insaanka. .
doodaan oo hayed mid Xamaasad leh  ,ayaa waxaa daadihinaayey Madaxii hore ee Laanta Afka Soomaaliga BBC Yusuf Garad Omar   Madaxna  ka h Hay,aada Horn Media And Communications LTD  Doodana Wax ka abaabushay iyadoona ka qeybgalayaahsa dooda ay ahaayeen ku wa ku kala aragti duwan hanaanka loo maraayo in ay doorasho xur ah ka dhacdo Wadanka Soomaaliya 2016.
"Haddii doorasho ka dhici weyso Soomaaliya waxaa laga yaabaa in Guddi khubaro ah laga soo diro Brussels, Guddigaasi na ay dalka yimaadaan, oo Gobolada dalka oo dhan soo maaraan,  kaddibna ay warbixin soo qoraan oo ay yiraahdaan markaan soo marnay Goboladii dalka ee aan la kulanay Madaxda Hay'adaha  Dowladda & kuwa Gobolada waxeey noola muuqataa in aysan suurtagal aheyn dareed talo ayeey soo jeedinayaan UN ka loo gudbiyo, waxa dhici kara weli ma cada,wax qorshe oo cad ma jiraan oo miiska saaran oo tilmaan ka bixinaya haddii doorasho dhici weyso waxa xiga doona" Ayuu yiri Xildhibaan Xoosh, wuxuuna intaa sii raaciyey in awooda Dowladda & caqabadaha ku horgudban aysan aheyn wax is qaadan kara.
"Madaxweynaha & Baarlamaanka AMISOM ayaa ilaalisa, Dowladda Soomaaliya kuma filna in ay xaqiijiso ammaanka Madaxda & Xarumaha Dowladda" Ayuu yiri Xildhibaan Xoosh oo qaar ka mid ah dadkii ka qeybgalay ay weydiinayeen su´aalo kala duwan.
Danjire ali Faqi waxaa uu sheegay in Doorasho ay dhicikarto 2016 waxaana uu sheegay in barlaman cusbna la soo dooran Doono ,kadibna gudoomiye cusub ay dooran doonaan ,barlamankaasina ay uu doorankaro Madaxweyne cusub ,iyadoona Ali Faqi uu sheegay in ay haboontahay in mucaaradka iyo muxaafdka ay is afgartaan .
Dr Cali Faqi oo ah Safiirka Soomaaliya ee Midowga yurub, ayaa waxaa uu sheegay in loobahanyahay in dadka Soomaaliyeed ay danahooda gartaan si loo gaaro is faham guud ,taas oo uu sheegegay in looga bixi karo mishaakilka guud ee Soomaaliya hareeyey.
Su"'aalihii la weydiyey Dr Ali Faqi yo Xildhibaan Xosh ,ayaa waxaa ay ahaayeen ku wo loo baahnaa xiligaan kuna sabasanaa Mowduuca Dooda ee ahaa Hiigsiga 2016 ku waasi oo si hufan looga jawaabay iyadoo siwanaagsna loo fahmay siyaasada Dalka hada ka jirta sida ay tahay iyo waxa imaankara .
Dooda Marki ay dhamaatay ka dib ayaa waxaa ay CMD La hadashay Dadkii Soomalaiyeed ee ka qeyqaadanaayey dooda iyagoona sheegay in ay aad ugu bahanyihiin in  loo qobto doodahaan oo kale madama doodahaan ay yihiin ku wa waxbadan laga faa"idikro.
Qurbajogta holland ayaa aad u amanaay Center for Media and Dialogue  waxaana ay sheegeen in ay waxbadan qabteen iyagoo jira wax ka yar 2 bil ,iyadoo dhanka kalena ay CMD balanqaaday in dooda ku waan ka xiisa badna ay soo wadaan,https:
CMD Holland