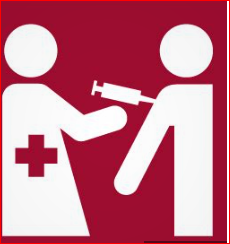 Coronaviruses are a type of virus. There are many different kinds, and some cause disease. A coronavirus identified in 2019, SARS-CoV-2, has caused a pandemic of respiratory illness, called COVID-19. Therefore it is not something that has started during pandemic it has been identified long time ago.
WHAT YOU NEED TO KNOW
A coronavirus identified in 2019, SARS-CoV-2, that causes respiratory illness, for those who have existing medical condition or comorbidity which means someone who have one or more medical issues, those particular people, the elderly are the most at risk since their body resistance are weak. 
According to National Health Service of UK best known and shortened as  NHS has circulated brochures to the UK public [COVID-19 vaccination A guide for adults on 30/04/2021] informing about the  coronavirus COVID-19 which states quote: 
What is COVID-19 or Coronavirus?
COVID-19 is a very infectious respiratory disease caused by
the SARS-CoV-2 virus.
How do you feel  if  infected ? 
Many people who are infected may not have any symptoms
or only have mild symptoms.
What are the symptoms ? These commonly start with
Cough,
Fever,
Headache and
Loss of taste or smell.
Some people will feel very tired, have aching muscles,
Diarrhoea and vomiting,
Fever and confusion. 
Although all the above symptoms can be confused with other respiratory illnesses like the normal cold, Pneumonia, influenza  and flu.  
People with one or more diseases or comorbidity and have weak immunity will be the highest risk group. 
It is most likely that number of people then go on to have severe disease which may require hospitalisation or admission to intensive care. The good news  Overall fewer than 1 in 100 people who are infected will die from COVID-19,  which means 99 people will survive of the virus. but in those over 75 years of age this rises to 1 in 10. that means one person over the age 75 years will die where nine people over the age of 75 years survives of the virus.
According to this NHS brochure states  There is no cure for COVID-19,  similarly the same brochure states that Like all medicines,  mRNA vaccines can cause side-effects. The vaccine is approved under medical emergency experimental drug as part of a clinical trial. and will end clinical trial by  2023.  Thus, no one knows where this mRNA experimental clinical trial will lead to.  On the issue governments and medical world and Media agree to disagree on this issue and is an open to debate to date , 
UK was the first country in the world  to approve under conditional and temporary authorization
On 2 December 2020, the MHRA became the first global medicines regulator to approve an RNA vaccine when it gave conditional and temporary authorization to supply for use of the Pfizer–BioNTech COVID-19 vaccine codenamed BNT162b2] (later branded as Comirnaty). This approval enabled the start of the UK's COVID-19 vaccination programme. The regulator's public assessment report for the vaccine was published in 15 December. 
What is mRNA technology  and who invented it ? 
In late 1987, Robert Malone performed a landmark experiment. He mixed strands of messenger RNA with droplets of fat, to create a kind of molecular stew. Human cells bathed in this genetic gumbo absorbed the mRNA, and began producing proteins from it.
Realizing that this discovery might have far-reaching potential in medicine, Malone, a graduate student at the Salk Institute for Biological Studies in La Jolla, California, later jotted down some notes, which he signed and dated. If cells could create proteins from mRNA delivered into them, he wrote on 11 January 1988, it might be possible to "treat RNA as a drug". Another member of the Salk lab signed the notes, too, for posterity. Later that year, Malone's experiments showed that frog embryos absorbed such mRNA2. It was the first time anyone had used fatty droplets to ease mRNA's passage into a living organism.
Those experiments were a stepping stone towards two of the most important and profitable vaccines in history: the mRNA-based COVID-19 vaccines given to hundreds of millions of people around the world. Global sales of these are expected to top US$50 billion in 2021.
Liability of the vaccine damage
Like all medicines,  mRNA technology  and vaccines can cause side-effects, Pharmaceutical companies as part of the medical producers for profit and partly funding the European Medicines Agency EMA and  The Medicines and Healthcare products Regulatory Agency (MHRA) in UK,  makes suspicious and conflict of interest breach to approve a medical product made by their own funder to the public. It is possible that the those organisation are for good of the public in the eyes of many, but,  when  the same organisation receive their fund from the public tax and pharmaceutical companies alike, then the public need  who will oversee that  corruption and  kick pack is not committed.  In UK in vaccine damage compensation is offered if someone has been identified harm is caused  by a vaccination. The amount of compensation is  £ 120.000 tax free, however,  you need to prove that you are 60 % disable. 
Sources: